Palazzo Municipale (Town Hall)
Palazzo Municipale (Town Hall)
Palazzo Municipale
is The Town Hall of Ferrara is located in Town Hall Square 2. It was the residence of Este Dukes until the sixteenth century, when the court moved to the nearby Castello Estense. Today it houses the town of Ferrara. The interior has numerous prestigious rooms. The main ones are:
Arengo room – Sala dell'Arengo,  decorated with Achille Funi frescoes realized between 1934 and 1938 representing the myth of Ferrara.
Headstones room – Sala delle Lapidi, so called because of the tombstones dedicated to the soldiers dead for homelands
Round room – Sala Tonda, with his specific nineteenth century decorated ceiling  and embellished with some nineteenth-century paintings placed on walls.
Plebiscite room – Salone del Plebiscito, named in that way after the referendum which took place there in 1860 to decide the annexation of Emilia to the Kingdom of Italy.
Duchesse Cabinet – Stanzino delle Duchesse, a small room completely covered with decorated wooden panels made between 1555 and 1560 and attributed to Cesare, Camillo and Sebastiano Filippi (known as Bastianino) and probably designed to Eleonora and Lucrezia d'Este sisters of Alfonso II.
Golden room – Stanza Dorata, characterized by a wooden coffered ceiling with golden roses of the fifteenth century.
Tapestrie room – Sala degli Arazzi, in which stand two Flemish tapestries: a pergola with garden (1620-1630) realized by Jan Raes and Judith and Holofernes (1600-1635).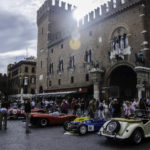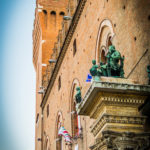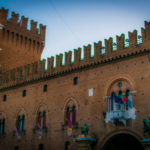 Location