Ferrara Surroundings
The Province of Ferrara covers a geographical area relatively limited. That's why Ferrara surroundings can be reached in relatively short time. In less than an hour you can cross the entire area from north to south and from east to west in a little more. Opportunities of touristic interest around the city are many but the most famous are the following: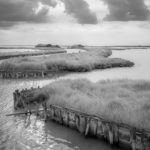 ---
Other interesting Villages are:
Argenta
– located at 30 minutes by car south east of the Ferrara, Argenta is one of the biggest villages of Ferrara province. Argenta hosts also one of the most important eco-museum of Italy. On the way that from Ferrara goes in direction of Mantova, in 20 minutes from the city center you will find
Bondeno, 
the oldest settlement of Ferrara territory, rich in precious historical evidence.
Comacchio
is the most characteristic and fascinating historic town in the Park of the Po Delta and is often compared with the city of Venice.
Goro  
is an important fishing port on the Adriatic sea. From Goro numerous tourist ferries arrange journey to the discovery of the Po Delta.